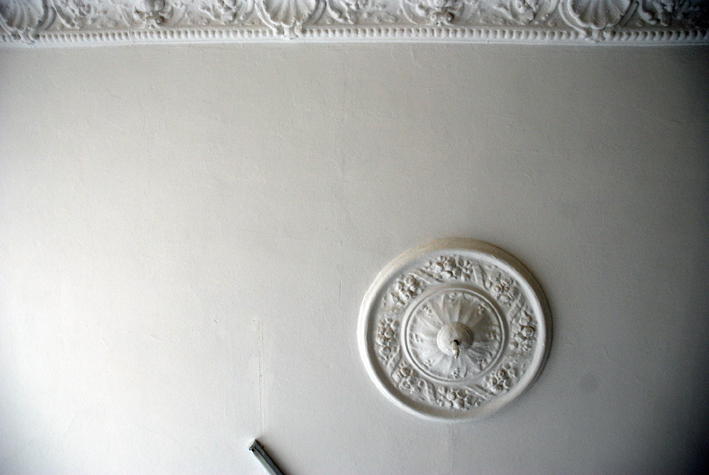 Display
2016
Conversion and renovation of a
project space for contemporary art
in Berlin-Schöneberg
3 rooms, 65 square meters
On behalf of display-berlin/
Marie DuPasquier
Photos: Adrienne Bovet

DISPLAY, a project space for contemporary art, is set in the ground floor of a Gründerzeit house in Berlin-Schöneberg, founded by Marie DuPasquier in 2016. A big display case connects the inside with the outside and became eponymous for the exhibtion space.

The conversion and renovation included painting works, removal of wall papers, new floor covering, kitchen remodeling and lighting installation with three fluorescent tubes T8 in the middle of the exhibition room .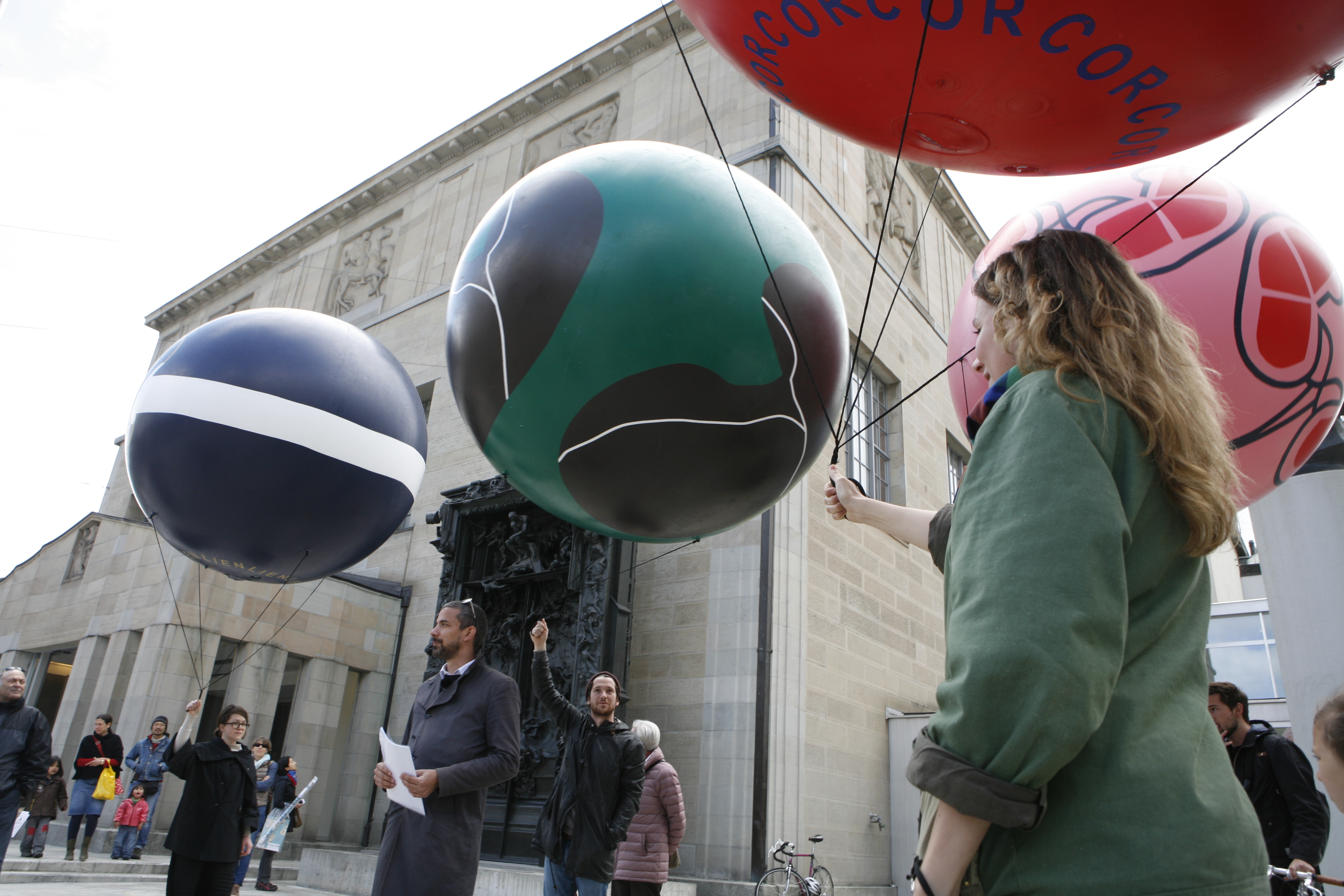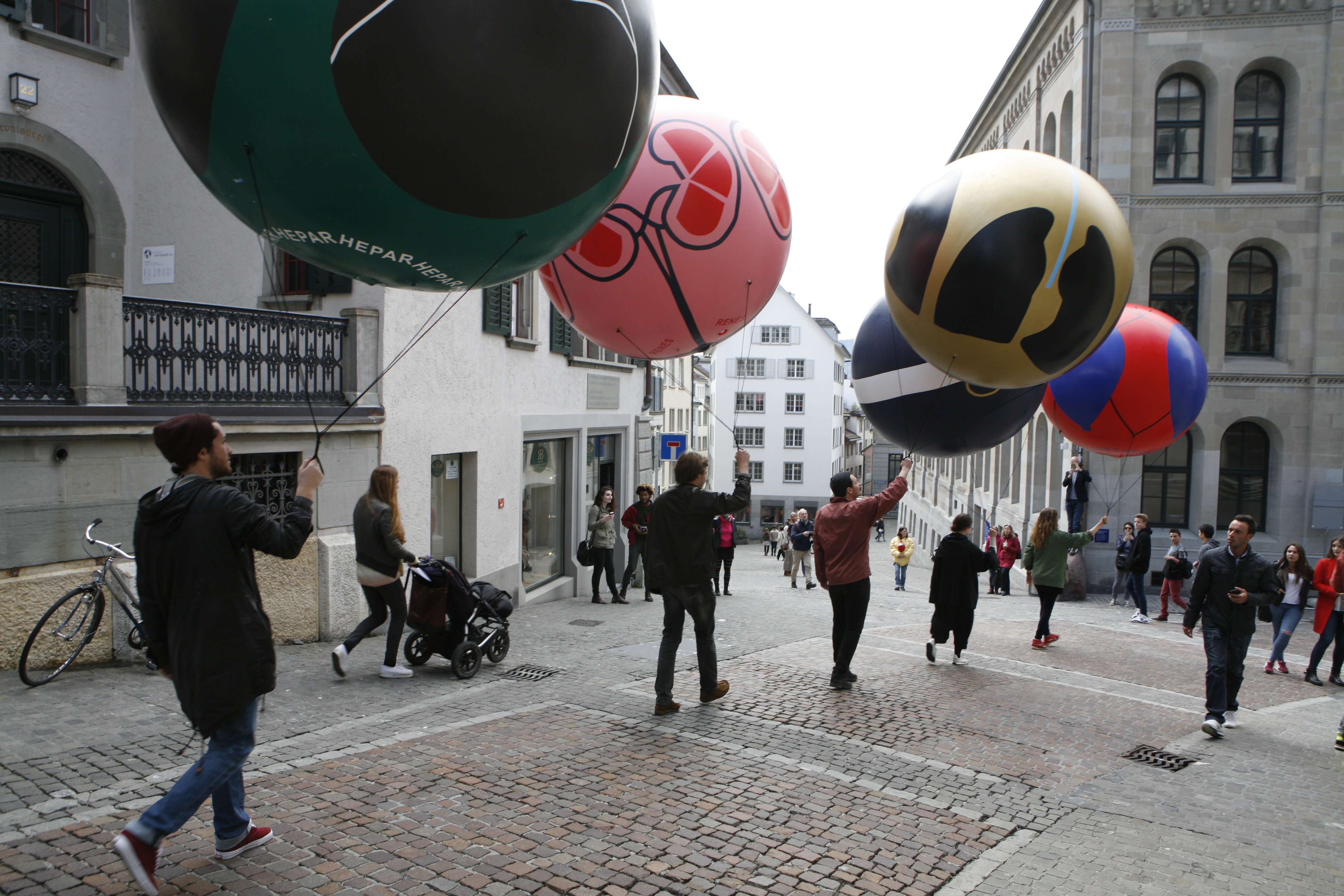 Tohu wâ bohū
2015
Ceiling extention at
Prediger Church Zurich
Five helium balloons and carrier
Each balloon 180cm diameter
At the invitation of Adrian Notz,
director of Cabaret Voltaire
and the STEO foundation
Photos: Nora Hauswirth, Nikkol Rot
In a solumn procession led by Paul Polaris, five large helium balloons bearing images of the five major organs, were carried by as many people from Heimplatz, just outside the Kunsthaus Zurich, into the Prediger Church. Inside the church they were released, hitting the ceiling with a bang. The images on the balloons - of a lung, liver, spleen, heart and kidney – united to form a kind of organic ceiling mural, a pneumatic iconoclasm, that at once celebrated, sanctified and worshipped the organic. Whilst the plan was to leave them until they naturally descended, after a week they were still there, and had to be manually removed.

In a publication entitled Invent the Future with Elements of the Past, religious scholar and author Dolores Zoe Bertschinger imagines how these icons, this iconoclasm may have been understood by the founding fathers of the Zurich Reformation.

Invent the Future with Elements of the Past is a project of STEO Foundation in collaboration with Hans Ulrich Obrist and the Cabaret Voltaire. This work was made in response to an invitation extended to twelve Zurich artists, to go on a walk with Lucius Burckhardt, founder of strollology.


Bringing my Heart form the Sea

2015
Temporary installation at Teatro
Marinoni on the island Lido as
part of Salon Suisse in Venice
Five balloons, painted and filled
with air, 180cm diameter each
At the invitation of Juri Steiner
and Stefan Zweifel
Photos: Andrea Santini
Teatro Marinoni is an abandoned theatre of a former clinic for tuberculosis on the island Lido in Venice. Just a short walk away on the waterfront, Paul Polaris is fishing a big, red balloon out of the sea. In a silent procession this balloon is carried into the inside of the theatre and positioned under the ceiling fresco showing Neptun, the roman water god. Inside the room there are four more balloons and relicts of Tohu wâ bohu arranged. During and after, Philippe Eustachon and Francesca Sarah Toich recite texts by Antonin Artaud and read from the Egyptian book of the dead.


Boom Boom Bang Bang
2012-2013
Intervention & building application
Kunsthaus Zurich, Heimplatz 1
Paper, typewriter, spray can,
At the invitation of Sabeth Tödtli,
Urban laboratroy zURBS

On April 17, 2014, at Heimplatz in Zurich, Paul Polaris gave a farewell speech to the Kunsthaus. Polaris delivered her poetic swan song standing on a beer barrel. She interrupted herself with the smashing of champagne glasses at regular intervals.

Following a lengthly collaboration with a renowned Swiss explosion expert, an application for planning permission was submitted on April 2014 to the Zurich planning permission office, titled "Conversion into a ruin by blowing up". Collapse principle, vibration prediction, ignition sequence and security dispositive formed the basic elements of this proper planning application, which was rejected under Building Decision 705/14.

Text by Dolores Zoe Bertschinger and Elly Clark


base
2010
Intervention at a former brewery
Landsbergerallee 54, 10249 Berlin
Styrofoam, smoothening compound
0,8 x 1,2 x 1 m (WxLxH)
At the invitation of Paulus Fugers,
Photos: Paulus Fugers, Paul Polaris
"Whilst Paul Polaris frequently presents precarious structures in exhibition rooms to intentionally bring brand new structures to ruin, sometimes she works in the opposite direction, by focussing on the concrete statistics of the room in which she works - even if only symbolically. In one Berlin art space, Polaris created the base of a classical column out of Styrofoam, [which as an addition to the room was at once visible (wrong style) and invisible (optically blended in)]. Physically this column bore no weight, but metaphysically it could be understood to carry the burden of architectural history."

Text by Daniel Morgenthaler.
English translation by Elly Clark.